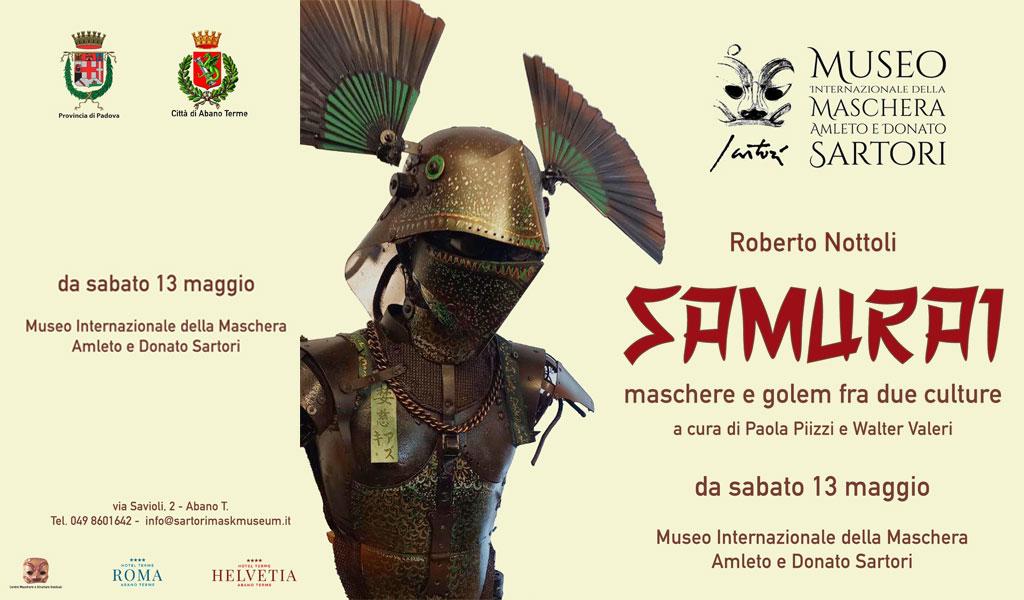 Samurai: masks and golems between two cultures.
The Museo Internazionale della Maschera Amleto e Donato Sartori hosts the exhibition Samurai curated by Paola Pizzi and Walter Valeri.
Sculptor Roberto Nottoli has recreated Samurai masks and ancient Japanese golems, using scraps of fabric, old belts, rusty taps, discarded gaskets, bolts and metal fragments usually destined for recycling.
In the rooms of the museum, visitors can relive the sacred roll of drums, the glitter of scimitars, the echo of fierce battles, lightning clashes that ended in bloody hand-to-hand combat, or the sneers of the warlords and the shaggy demons they appealed to.
OPENING HOURS IN SUMMER
2 May to 30 September
Tuesdays: 9 a.m. – 1.30 p.m. (last admission 12.30 p.m.)
Wednesdays and Fridays: 9 a.m. – 1 p.m. – 2.30 p.m. – 6 p.m. (last admission 5 p.m.)
Sunday:5-8 p.m. (last admission 7 p.m.)
other days and times by appointment
OPENING HOURS IN WINTER
from 1 October to 30 April
Tuesdays: 9 a.m. – 1.30 p.m. (last admission 12.30 p.m.)
Wednesdays and Fridays: 9 a.m. – 1 p.m. – 2.30 p.m. – 6 p.m. (last admission 5 p.m.)
Sunday: 2-5 p.m. (last admission 4 p.m.)
other days and times by appointment
ENTRANCE TICKETS
Full price ticket € 7.00
Reduced price ticket € 5.00
Dove si svolgerà:

Museo della Maschera Amleto e Donato Sartori, Via Savioli, 2