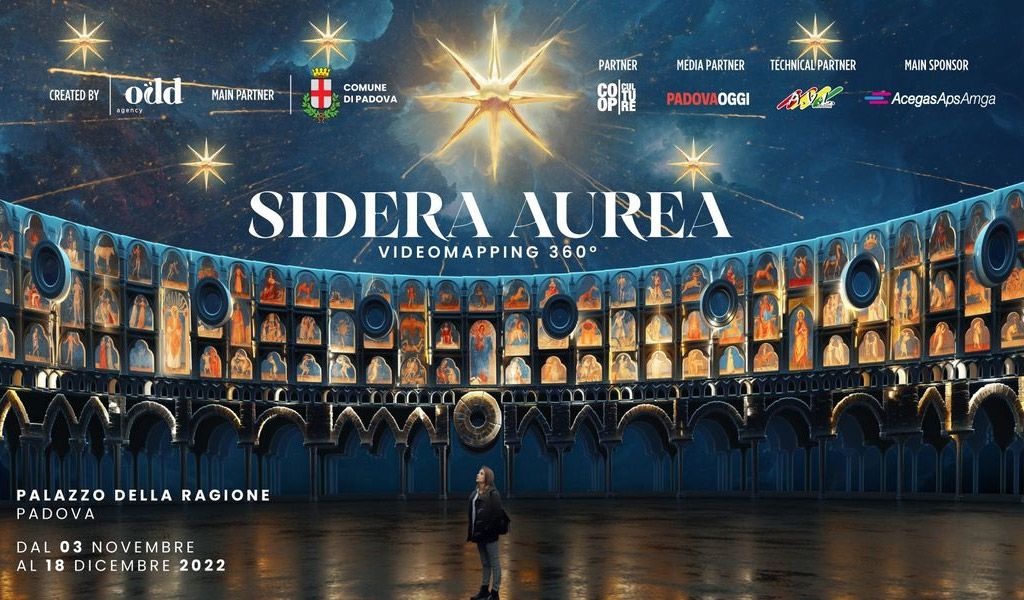 Sidera Aurea – Projection Mapping 360° – Palazzo della Ragione, Padua
Sidera Aurea is an immersive projection mapping project made by Odd Agency inside the Palazzo della Ragione of Padua. A historical and emotional journey that traces the history of the sala picta along the centuries, from birth to its destruction in 1420, caused by the fire that destroyed the original cycle of pictures made by Giotto.
For the very first time, the Palazzo della Ragione di Padova will be the magnificent canvas of a cross-media show. Lights, visual effects, music and colors, will turn the frames and the frescoes in 333 windows overlooking the Vision.
Full Ticket 12 €
Reduced Ticket  8 € – The reduced ticket is valid for children from 5 to 16 y/o, students and persons with disabilities.
Free Ticket 0 € – The access is free for children up to 5 years old. Caregivers are eligible for free admission when accompanying a person with disabilities.
The Group ticket costs 10 € each and is for groups of at least 15 people. Reservation is recommended by calling at +39 0912738915: the service is available from Monday to Friday, from 9 AM to 6 PM.
Dove si svolgerà:

Palazzo della Ragione